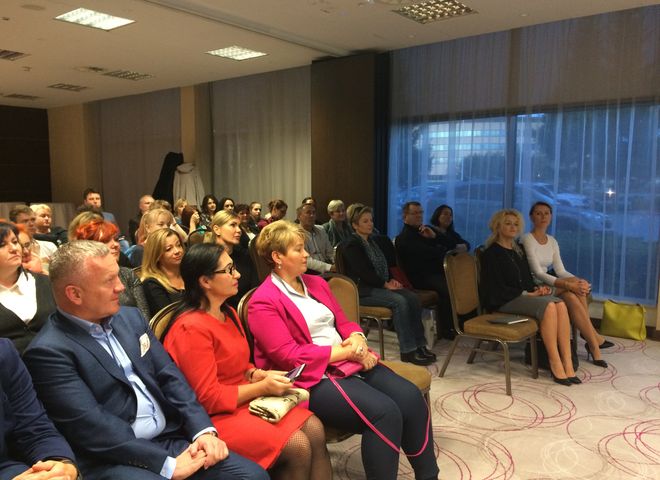 Szczecin, Poznań, Wrocław – jesienne B&B Road Show w Polsce zakończone!
Każde inne, wyjątkowe, niepowtarzalne – tak zapamiętaliśmy jesienne tournée Colway International w 6 miastach w Polsce. Parę elementów powtarzało się jednak, bez względu na okoliczności. To entuzjazm i poruszenie związane z uruchomieniem brakującej przekładni w silniku naszego bolidu, rangi Member. O randze i podziale marży opowiadał prezes Jastrzębski. Ze zmianą wiążą się realne pieniądze, mimo że w przybędą do Wirtualnego Portfela; Teraz sponsor za przeprowadzenie nowego współpracownika od statusu klient do statusu partner biznesowy z 40-procentową zniżką, otrzyma zapłatę w wysokości ok. 300 zł, nie wliczając w to prowizji generacyjnej i nadprowizji.
Kolejną reakcją powtarzającą się na każdym ze spotkań, była radość z wprowadzenia nowej linii i nowych produktów – Pasty do zębów z kolagenem oraz Płynu do higieny intymnej z kolagenem. Opowiadała o nich ich pomysłodawczyni, Adriana Lenartowska. Na spotkaniu we Wrocławiu nasz gość specjalny, jeden z kreatorów nowej pasty, ośmielił się powiedzieć – a ma bogate doświadczenie w tej dziedzinie – że nasza pasta do zębów nie będzie miała w Europie równiej sobie konkurencji.
Apetyt na Tajlandię wzrasta z dnia na dzień, również dzięki General Sales Manager, Anecie Kownackiej. Każdy, kto podejmie wyzwanie realizacji warunków kwalifikacyjnych, będzie otoczony przez nią specjalną, indywidualną opieką. Nasi liderzy, opowiadając na scenie o Międzynarodowej Konferencji w Dubaju, w której uczestniczyli, opowiadali o przepychu, luksusie, spełnionych marzeniach, zmianie i decyzji o własnej niezależności.
Doskonałe mowy wygłosili we Wrocławiu Jolanta Gacek oraz Mariola i Adam Rymarczykowie, w Poznaniu – Barbara Buławska i Magdalena Bartosik-Bordulak. W Szczecinie na scenie wystąpił Marcin Maruszak, w Warszawie Monika Suska-Łojek i Mariusz Łojek; w Lublinie – Grażyna Polańska. W Sopocie gościliśmy Jadwigę i Zbigniewa Lissów.
Kształt celów i marzeń, powoli budzących się głowach partnerów, motywacją wypełniał współzałożyciel firmy – Maurycy Turek – pokazując obecnym, jak duże znaczenie ma działanie i pierwszy, najważniejszy krok.
Back to list